About
ARTDOCS is a multidisciplinary creative organisation, with a background in celluloid film, photography, digital video production, post-production, animation and art.
Artdocs was founded in 2010 by artist and filmmaker, Benjamin Wigley. The company's work spans platforms and audiences by exploring multilayered, immersive journeys through avant-garde film, documentary, art, and expanded cinema events.
Artdocs was built on the hundreds of short interpretation videos for and about artists, that allow for audiences to discover more about the artist's work, their practice, and their process; with the intention for to show in galleries, and online platforms, like the BBC Space or Tate Shots. ARTDOCS was a pioneer of the 'art doc' gallery film. The short art docs were made for many major organisations in the art, heritage & museum sector like: National Trust, Trust New Art, Tate Media, National Portrait Gallery, English Heritage, British Council, Goldsmiths company, BBC Space, C4 Random Acts, National Justice Museum, Arts Council England, Somerset House and many more. Alongside this, ARTDOCS made charity docs and animations for sightsavers, Save the Children, OXFAM, and short communication videos for Boots ltd.
Artdocs' supported its first independent documentary short film, alongside EM Media and Scottish Documentary Institute, called P.S. Your Mystery Sender, in 2010. The film was about Sir Paul Smith's strange posted objects, and it was the first time working with Benjamin Zephaniah. The film was part of the 'Bridging the Gap' UK Masterschool programme at Edinburgh College Art, played internationally (SXSW, HotDocs, Palm Springs, DOCFEST, screened on BBC, SVT, SBS).
In 2012, Artdocs then produced Ben's first feature length documentary, Paa Joe & The Lion about the Ghanaian artist and coffin maker Paa Joe. Featuring original poetry by Zephaniah. The film was part of the 'Documentary Campus Masterschool' 2012, a 10 month hands-on training and development programme with international experts. The film was supported by Creative England, Worldview, and raised £22.5K on Kickstarter from 350 backers. The film screened at over 30 international festivals & Galleries, including: SXSW, Sheffield DocFest, DocsMX in Mexico City, Margaret Mead in New York City, DocLands; it has been sold to Amazon Prime (North America) and is online now.  This was also the first major project to explore the expanded cinema aspects of Ben's work, using live art performance and large scale theatrical events (during screening at the Broadway cinema, and international artist residency at National Trust Clumber Park).
With support from ACE, over a series of artist film projects, with local arts organisation City Arts, Ben began to learn more about 16mm motion picture filmmaking. Undertaking various one to one training at No.W.Here film lab in London and with film mentor and collaborator James Holcombe. Ben then began to build a darkroom lab in his studio.
In 2016, Ben further explored the line between art installation, film, and immersive journey through an epic project for the National Trust. He expanded his celluloid film knowledge, fusing this with expertise in DIY digital documentary filmmaking, on a six-week-long, major exhibition at Somerset House, entitled 'One and All' - The National Trust's 'National programme' for 2017, and the 50th Anniversary project to celebrate their coastlines - a truly ambitious and experiential production that merged physical exhibition, an online interactive journey around nine coastlines, and celluloid film. Collaborating with poet Owen Sheers, visual artist Tania Kovats, and musician Martyn Ware.
Artdocs was then selected as one of the top 50 companies for 2017 by Creative England.
In 2017 Ben worked with engineer Dr Matthew Little to create three hand-crank-powered celluloid film projector sculptures, in a major ACE and NT supported project, with the aim to take film into the landscape, and bring viewers on a physical film walk experience in to the natural environment. They were on show for two years and had over one hundred thousand uses.
In the same year, Arts Council England and British Council supported Ben for a month-long international artist residency in Toronto, Canada, at L.I.F.T (Liaison of Independent Film Toronto) and then as the only artist to date, to work as an individual 'artist in residence' at Philip Hoffman's Film Farm. This allowed Ben intense time with experts to learn about ecological celluloid film development techniques, avant-garde film, and specialist film equipment. The art he created formed some of the major film sequences for Ben's second feature documentary, a furthering into the avant-garde & documentary blur, called ' A Life on Earth', which premiered as the guest programme at Encounters Film Festival.
In 2019 Ben was also invited to create a second 'National Anniversary Programme' for the National Trust. This time a co-commission with the National Portrait Gallery, for the 100 year anniversary for women's suffrage called, 'Votes for Women'.
Ben created artist short films at four NT properties around the UK, where the National Portrait Gallery exhibition toured. Ben also created a series of hand-printed fine art photographs, from the 16mm celluloid film that he shot during the making process. These prints were exhibited for eight weeks at the NT Workhouse in Southwell, alongside the screening of the four films.
Ben then began expanding into music film, working with Zephaniah again for C4 Random Act, and a number of music & film collaborations with bands in 2020-21. Shooting on 16mm film, hand-processing, using variegated stocks and developers.
Ben's third feature film, and expanded cinema, project, is called 'Hart of the Wood'. This ambitious ACE, ARTDOCS, & National Trust supported project is building on all the multidisciplinary practice and skillsets from previous work. Collaborating with brilliant musicians and artists to build a phantasmagorical theatrical event in the woods in June 2022; with sonic art, hand-crank celluloid film sculptures, art interventions, photographs, and the Hart of the Wood feature film screening that will be presented in the woodland.
The H.O.W film is a strange documentary, mentored by Philip Hoffman and Andrew Kotting, that ventures further into the avant-garde form than previous work. Hart of the Wood is currently in post production and being submitted to festivals in 2022.
Another expanded film project in post production, that will surface in 2022, is the Camino to Cop26 film called Of Walking On Thin Ice', and is the film about the XR Walkers who walked from London to Glasgow,  Five hundred miles from London to Glasgow: Eight weeks, 56 days and more than 56 host organisations, over a thousand walkers and thirty rolls of 16mm celluloid film. The film will be walked around the original route, with both original and new walkers, setting up community screenings and festival screenings along the way..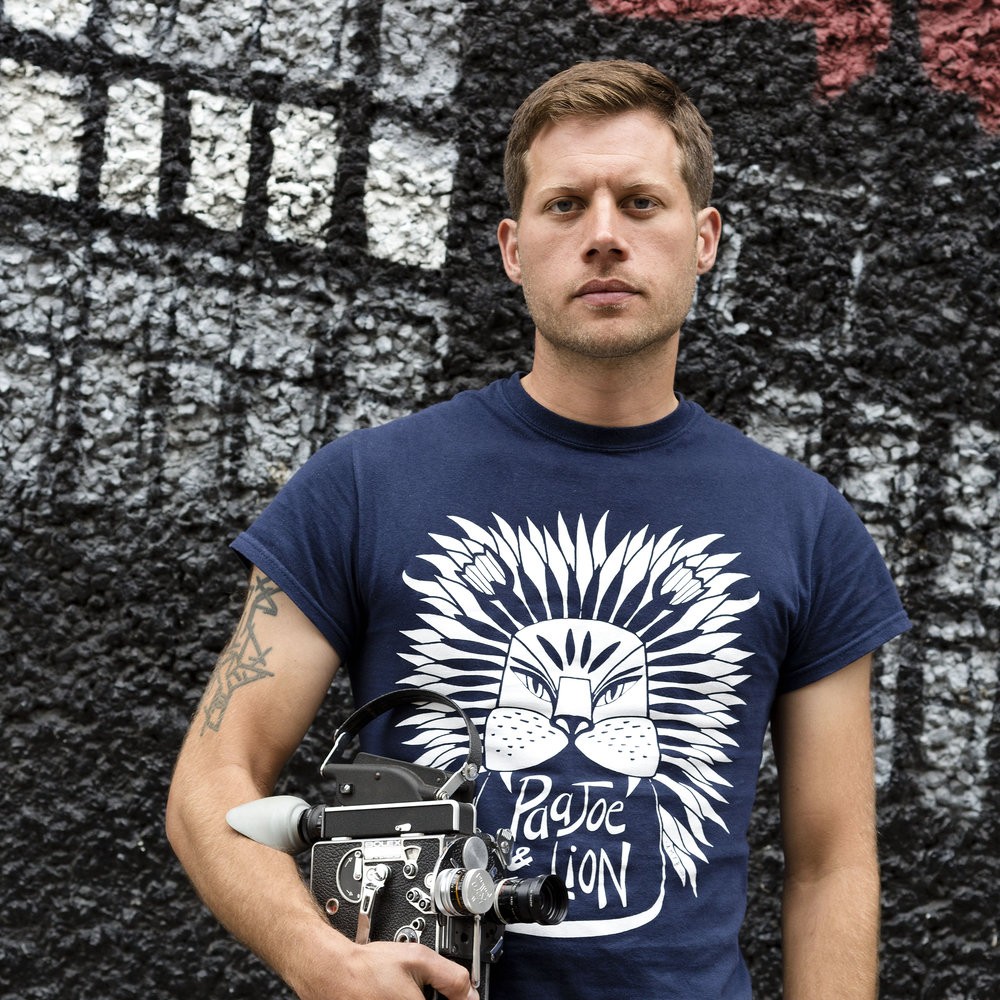 Benjamin Wigley
I am an artist and filmmaker whose work explores the journeys we make in life. My projects are often realised in the space between art and documentary. I am currently interested in how we talk about our lives through the metaphors of the natural world, and in the connections we make between memory and place. I am developing work that allows the viewer to get a sense of both a physical and an experiential journey; interacting, immersing and participating. I am also interested in how many different ways, or forms, a person can experience an idea or a story: using performance, documentary & experimental film, sculpture, photography (prints and books), exhibition spaces, digital immersive experiences, through artist walks and interpretation, that all work together to build an augmented viewer experience.